Contact Us
LAOEKSPERT OÜ
Mustamäe tee 18A
10 617 Tallinn, Estonia
Open:M-F, 9.00-17.30
Tel: +372 6 722 380
Fax: +372 6 722 381
GSM: +372 52 66 297
Need Advice ?
Battery stacker PL 1600 1000kg/1600 mm
Code: 90-43166
Delivery time: 5-14 days
2 650.00 €
Price excludes VAT
Identification: CDD 10B-III 1,6m
Capacity kg: 1000
Lifting height max mm: 1600
Lifting height min mm: 90
Total height max mm: 2090
Total height min mm: 2090
Total width mm: 800
Total length mm: 1678
Fork length mm: 1150
Fork width mm: 170
Fork width total mm: 580
Lifting motor: 1.5 kW
Lifting speed with load mm/s: 80
Lowering speed with/without load mm/s: 150/120
Battery: 12V/120 Ah
Charger: 12V/15Ah
Fork wheel Ø mm single/nylon: 80x70
Steering wheel Ø mm nylon: 180x50
Weight kg incl. battery: 400
Swing radius mm: 1425

Hand-drawn stacker with a battery-powered lifting motor. Ergonomic handling for frequent heavy lifts. The stacker is completely adapted to its work tasks. Loading and unloading, as well as stacking of palletted goods. It can also be used as a raise / sunk worktable. The powerful battery provides a long operating time per charge. Foot brakes on both steering wheels.
Easy-to-service construction of the hydraulics, distribution box and battery.
- Efficient and ergonomic lifting tool.
- Supplied complete with a battery and an charger.
- Easy-to-read battery indicator for control of the capacity of the battery.
View full product information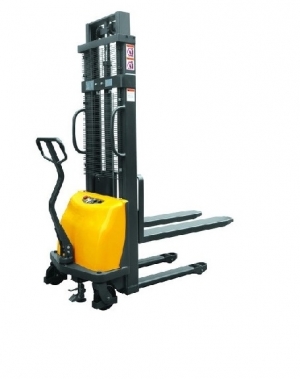 Product group images